So, the time for planning your next vacation is finally here. You are looking at the same two or three locations that you choose every year. This is not something unusual because people like to choose things that they consider familiar and safe. However, if these destinations don't include Thailand then you need to know that you are missing a lot of things. Thailand is among the top travel destinations in the past ten years. If you think that this country is very far and you are not sure about how you will feel there, just look at the numbers.  More than 25 million people visited Thailand last year and every year the number of tourists is increasing. There must be a good reason for that, right? As a matter of fact, there is more than one good reason.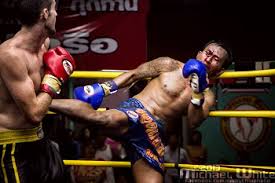 People travel to Thailand because of different things. They enjoy the sunny beaches and the warm water, beautiful nature, exotic animals and plants, tasty cuisine, rich heritage etc. But, what is worth mentioning is the fact that many people look at Thailand as a great activity destination. This means that Thailand is a great place where you can combine your vacation with exercise and physical activity. One particular discipline is more popular than the others – Muay Thai.
Muay Thai is the national sport of Thailand and this sport was practiced for centuries all over Thailand and in some neighboring countries too. In the beginning it was more like a combat skill and martial art, but during the 20th century it became an officially recognized combat sport. In the 21st century many fitness trainers have realized that Muay Thai is an excellent fitness activity too. Many modern fitness centers include Muay Thai training or fitness classes which include some elements and techniques from Muay Thai.
If you want to discover the true potential of Muay Thai training then you must join a Muay Thai training camp in Thailand. The experienced instructors found there will help you lose weight, become stronger and release stress. These classes are suitable for men and women too.
Our advice is to join a camp on an island because you will be close to the sea and enjoy some water activities when you are not having a class.